Versatile with no Splinters
ChoiceDek's durability is suited for fencing, decks, accessibility ramps, docks and marinas.
Durable
Its patented manufacturing process produces decking that withstands the most demanding environmental conditions.
Water Proof
Plastic encapsulated wood fibers provide a water proof product that performs consistently in any environment, even submerged.
Environmentally Friendly
ChoiceDek does not require chemical dipping, preservative treatments or water sealing.
Rot/Termite Resistant
The unique composition of ChoiceDek makes it virtually impervious to rot and termites.
Easy to Work
ChoiceDek can be assembled with standard hand and power tools.
Warranted
ChoiceDek is backed by the Weyerhaeuser name and a limited lifetime warranty.
Choose Wisely. Choose Griffitts Exteriors Deck Service
Weyerhaeuser ChoiceDek is the decking that's environmentally sound.
With a full complement of railings and trim, ChoiceDek is the "wise choice."
Residential Decking Limited Lifetime Warranty
Against Rot and Termite Damage
Weyerhaeuser ChoiceDek engineered components used in residential decking construction carry a limited lifetime warranty against rot or fungal decay, termites or insect damage, when installed following A.E.R.T. spanning and installation instructions and in compliance with applicable building codes and good construction practices.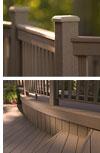 Winner of EPA Environmental Excellence Award
Weyerhaeuser ChoiceDek is manufactured by Advanced Environmental Recycling Technologies (A.E.R.T.). ChoiceDek is protected by U.S. Patent #5759680 and is covered under NER #596